The Latest from the Dobber Sports Network
DobberHockey
Latest Articles
Tue, May 21 2013, 01:35 pm UTC
     Roos investigates players who will disappoint ... or improve in the West next season Welcome to Part 2 of my series about non-playoff teams, focusing on two players from each team – one...
Tue, May 21 2013, 12:49 am UTC
What we said about Nicklas Backstrom back in 2008. The 2013 Fantasy Prospects Report will be the seventh annual production from DobberHockey. And what better way to celebrate than to take a trip...
DobberBaseball
Latest Articles
Mon, May 20 2013, 05:27 pm UTC
  This week's matchup features two southpaws who broke into the league in 2011. While Milone's career path has always been a starter, Santiago has only recently been converted to a starter. ...
Sun, May 19 2013, 10:25 pm UTC
  When we get to the long weekend in May we all start looking up when the trade deadline is a little more often - don't tell me you don't do it, everyone does. No matter how much you love...
DobberProspects
Latest Articles
Thu, Dec 20 2012, 04:05 pm UTC
  Jonathan Drouin, LW Shoots: L Height: 5-11 Weight: 176 Born: 1995-3-28 Hometown: Dollard-des-Ormeaux, QC, Canada Draft Eligible in 2013    
Sat, Mar 24 2012, 08:09 pm UTC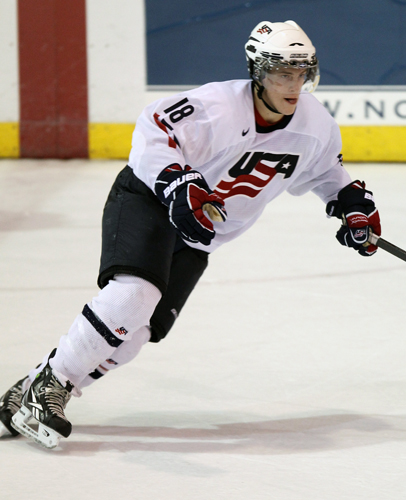 Charlie Coyle, RW Shoots: R Height: 6-2 Weight: 207 Born: 1992-03-2 Hometown:  Weymouth , MA Drafted: 2011 by San Jose, 28th overall          
DobberFootball
Latest Articles
Fri, Jun 15 2012, 12:23 pm UTC
NEXT UPDATE:  6/20/2013 THIS UPDATE:  5/20/2013   May Ranking Notes:   Tony Gonzalez may be the hardest to rank on this list because he's very likely playing his last year.  In Dynasty...
Fri, Jun 08 2012, 06:22 pm UTC
NEXT UPDATE:  6/15/2013 THIS UPDATE:  5/15/2013 May Ranking Notes: The June update will bring a complete re-wash of these rankings including slotting in rookies appropriately as well as a...
Goalie Post
Powered by The Goalie Guild and DobberHockey, Goalie Post is the world's finest and most accurate fantasy goalie resource. Who do you want feeding you your goaltender information - Justin Goldman, who is the goalie expert for NHL.com, and is the Director of Goalie Scouting for McKeen's and DobberHockey...or Joe Schmo who writes for his mom's blog?
No contest, really. Go with the pros.
Get up-to-the-minute starting goalie information with the Goalie Post Grid - FREE
Or why not check out how your goalies did over the last few days? Here is a look at the Goalie Game Log - FREE
Need to see if your team has any back-to-back games, or extended layoffs? Here is the full scoop on each team, with handy charts. - FREE
Goalie Post - your only truly great resource for fantasy hockey goalie information